Preview
Georgia Spartans Basketball Game
Come join us for an exciting basketball game featuring the Georgia Spartans! Get ready for a thrilling match filled with high-flying dunks, impressive three-pointers, and intense competition.
Date: Saturday, September 23, 2023
Time: 4:45 (GMT-0400)
Location: 2771 Columbia Drive, Decatur, GA 30034
Be prepared to witness the incredible skills and teamwork of the Georgia Spartans as they take on their opponents. The atmosphere will be electric, with fans cheering and supporting their favorite team. Don't miss out on this action-packed event!
TICKETS CAN BE PURCHASED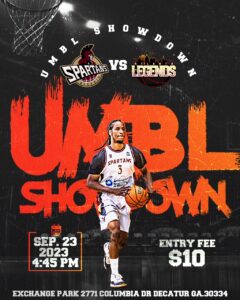 https://gaspartans.com/game/https-www-eventb…torumbl-showcase/
Details
| Date | Time | League | Event Date |
| --- | --- | --- | --- |
| September 23, 2023 | 4:45 am | UMBL 2023 | 09/23/2023 |